🎉 Correlation
Over the last year, we have both experienced and received feedback on how the users are receiving a huge number of alert emails. We always knew that this can be tackled if the platform understands how every alert or anomaly is related to each other. We worked hard on this very problem and have now successfully solved it.
Introducing - Correlations in Anomaly Detection Platform
Cliff now automatically understands relations between different KPIs by analyzing their trends and behavior
🎉 Delighted Integration
Monitor Customer Feedback
Monitor your customer feedback and NPS reports by connecting Delighted to Cliff using the new Delighted Integration
Stay on top
Now, you can get notified about sudden changes in the customer's feedback and reports and drill down into what caused them
Notification Cooldown
Who receives the notifications?

What are the alerts for?

When does one receive them?
These are the questions we tackled this week and we are so, so happy to release the answers to the questions
Control what you want to monitor
If you head over to the Incidents page and select the Monitors tab, you can control the exact combination of dimensions that you want to monitor.
Here, we have selected the measure = Impressions and max_ad_unit = Woodoku_Androi
🎉 New Relic Integration
New Relic is the industry's largest and most comprehensive cloud-based observability platform built to create more perfect software. The world's best software and DevOps teams rely on New Relic to move faster, make better decisions and create best-in-class digital experiences.
But, in doing so, they end up importing a huge amount of data and metrics into New Relic. What is imported must be monitored and that's where the nightmare begins and it ends with all the alerts and
🎉 Incident Management System (IMS)
So you've been using Cliff for a few weeks now. You love how you can spot unexpected changes in your metrics. You feel confident with your business processes.
But something's bothering you...
Every time you receive an alert for an unexpected spike or dip, you look towards the heavens and wonder - Is this it? There's got to be more to this.
And you're right! Getting the alert is good, but being able to take further action and address the anomaly right there would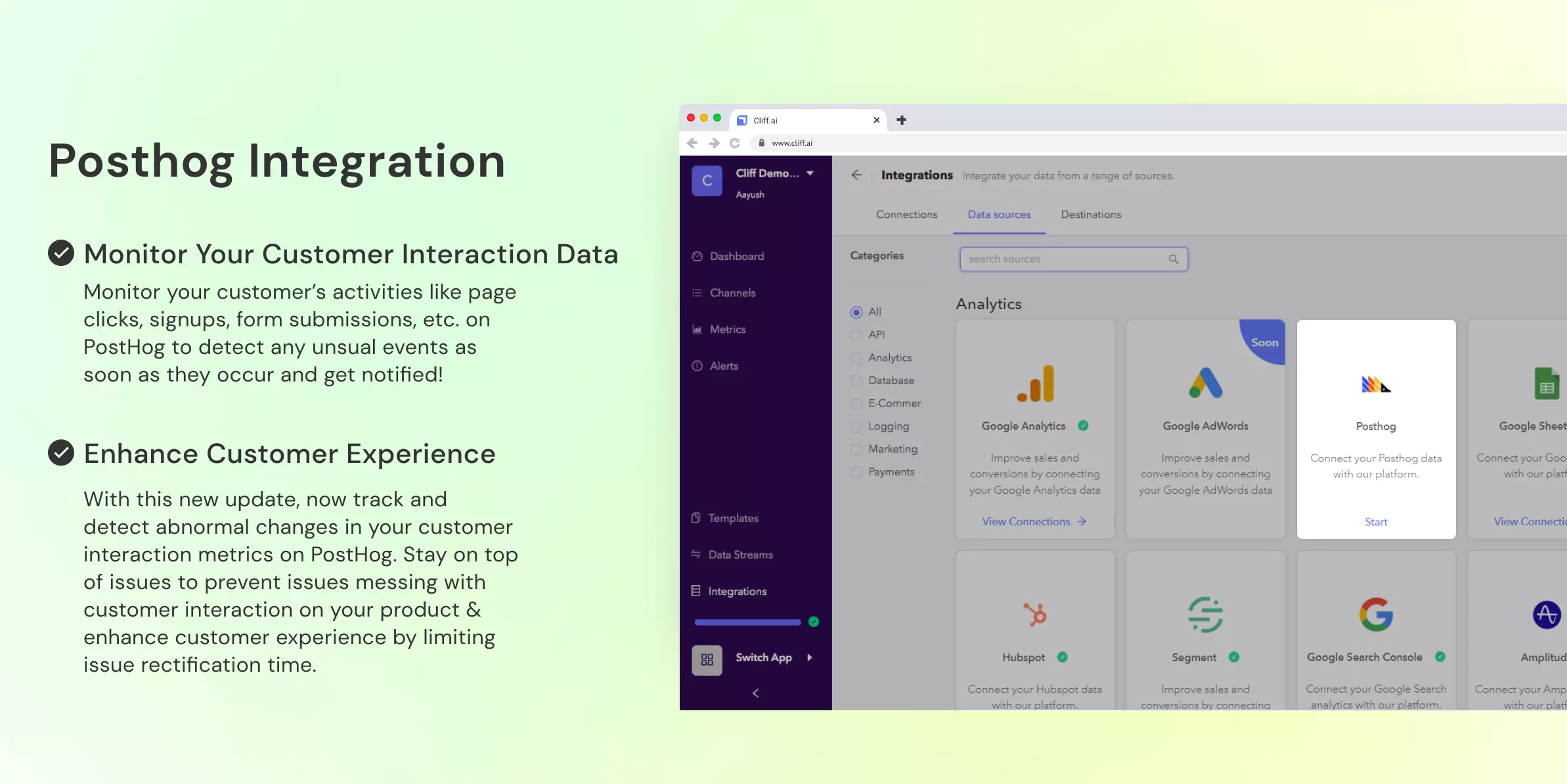 🎉 New PostHog Integration
PostHog is an open-source product analytics software that keeps you in control of your customer data. It helps you get a peek into your potential customer's behaviour towards your product.
Though PostHog is a great tool when it comes to visibility into customer behaviour, sometimes unexpected things happen which it doesn't take into its account. For example - there is a page on your product's website that gets maximum clicks on the daily basis and PostHog gives you a de
🎉 New Mailchimp Integration
Mailchimp is one of the most popular all-in-one integrated marketing platforms in the world. If you use Mailchimp, you must be aware of its prowess in business marketing. It recently got acquired by Intuit for $12B.
Mailchimp helps you deliver on marketing activities like customer engagement, marketing campaigns, marketing automation, customer analytics, and whatnot.
All these activities act as independent business metrics and need to be monitored in real-time. Sometime
🎉 New Twilio Integration
Today Twilio is being used by 1000s of companies to enhance the human experience by creating better custom communications solutions. Twilio helps developers develop state-of-the-art digital communication solutions for almost all the digital channels like text, SMS, email, call, etc.
Though Twilio is meant for improving the human experience, sometimes unexpected changes reverse this whole objective. Instead of a better experience, users get the opposite because something g
🎉 Cliff.ai <> Stripe Integration
Stripe is a simple way to process online payments. If you use Stripe as your payment option, you have an awesome product handling your payments.
But sometimes unexpected events can hinder the payment process and make your customers bounce from the checkout process. Now this can be due to several reasons. You might be able to eventually determine the cause, but until then you are losing money as most customers won't come back to try again!
This is where cliff
🎉 New HubSpot Integration
Do you want to know whenever important business metrics in your HubSpot CRM have abnormalities, that too in in real-time? You want to instantly know:
If Marketing metrics like CTR and OR have gone significantly high/low.

If Sales metrics like sales volume have an unexpected spike/dip.

If Customer metrics like Ticket volume by customers have had a spike/dip.
Our new HubSpot integration allows you to do just that. Now you can monitor every business metric that you visualise o